This thread is meant to discuss the monthly Attack on Titan manga. All things related to the series can be posted here. There is a high likelihood of spoilers, so if you haven't caught up make sure to do so!
Attack on Synopsis
AoT is set in a world where humanity lives inside cities surrounded by enormous walls as a defense against the Titans, gigantic humanoid creatures who devour humans seemingly without reason. The story initially centers on Eren Yeager, his adoptive sister Mikasa Ackerman, and their childhood friend Armin Arlert, who join the military to fight the Titans after their home town is invaded and Eren's mother is eaten. As the story progresses, the truth behind the origin of the Titans arises and the story shifts to one about political subterfuge.
Attack on Setting
Over one hundred years prior to the beginning of the story, giant humanoid creatures called Titans (巨人 Kyojin) suddenly appeared and nearly wiped out humanity, devouring them without remorse or reason. What remains of humanity now resides within a country surrounded by three enormous concentric walls: the outermost is Wall Maria (ウォール・マリア Wōru Maria); the middle wall is Wall Rose (ウォール・ローゼ Wōru Rōze, pronounced like rosé) and the innermost is Wall Sheena (ウォール・シーナ Wōru Shīna, alt. "Wall Sina"). Inside these walls, humanity has lived in peace for one hundred years; many people growing up without ever having seen a Titan. This all changes when one day, a giant 60-meter (200 ft) tall Titan mysteriously appears and breaches the outer wall of the Shiganshina district, a town at Wall Maria, allowing smaller but still deadly Titans to infiltrate the district. A second Titan smashes clean through Wall Maria, forcing mankind to abandon the land between Wall Maria and Wall Rosé, evacuating the remaining population into the inner districts. The sudden influx of population causes turmoil and famine. The Titans are giant humanoids about 3-15 meters tall that are masculine in body shape but without reproductive organs. They instinctively attack and eat humans on sight, but do not use them as food. Their skin is tough and difficult to penetrate, and they regenerate quickly from injuries, except for a weak spot at the nape of their neck. Combating the Titans is the military, which is divided into three branches. Foremost in the story is the Survey Corps (調査兵団 Chōsa Heidan), also called the Scouts, which goes out into Titan territory in order to try and reclaim the land. The Scouts are heavily derided in society because of their high casualty rate and little sense of progress. Another branch is the Garrison (駐屯兵団 Chūton Heidan), which guards the walls and the civilian populace. The third branch is the Military Police Brigade (憲兵団 Kenpeidan), who guard the royal family and live a relatively relaxed life. The soldiers use a tethering system called Vertical Maneuvering Equipment (立体機動装置 Rittai Kidō Sōchi) which allows them to jump onto walls, trees or nearby buildings to attack Titans.
Attack on Bios
Eren Yeager:
The protagonist of the series, who after witnessing his mother being devoured by a Titan dedicates the rest of his life to their eradication.
Mikasa Ackerman:
Adopted child of the Yeager family. Mikasa is the last known person of Asian descent living within the Walls. She is a quiet and withdrawn girl and maintains a near constant stoic expression, except when Eren is in danger
Armin Arlert:
Childhood friend of Eren and Mikasa, Armin possesses a sharp mind and a natural intuition for strategy which has proven useful on many occasions. However, Armin often believes to be completely incompetent, saying he barely passed the combat graduation exam (but was top of the class academically) and hates being cowardly and having to rely on friends all the time.
Reiner Braun:
Ranked second of the trainee class, is considered strong-willed with a solid constitution and most adept at gaining the trust of his comrades
Bertolt Hoover:
Ranked third of the trainee class. Highly proficient in various hand-to-hand combat styles. He seems to have great potential but lacks in self-confidence and has a tendency to leave it to others whenever it comes to showing assertiveness
Annie Leonhardt:
Ranked fourth of the trainee class. A stoic girl whose father trained her in hand-to-hand combat. During Cadet training, she spars with Eren, and later joins the Military Police
Jean Kirstein:
Ranked sixth of the trainee class. He is hotheaded, and speaks his mind, which gets him in conflicts with Eren. He originally desires to join the Military Police as a chance to live safely within Wall Sina
Connie Springger:
Ranked eighth of the trainee class, he sports a buzz cut. He is from the Ragako District of Wall Rosé. An outgoing and upbeat person, he tries his best to keep his teammates pumped up and does not shy away from encounters with Titans
Sasha Blouse:
Ranked ninth of the trainee class who sports a ponytail. She is good at working the Vertical Maneuvering Equipment unconventionally. She is also an expert with a bow and arrow, revealed when she uses it to take down a three meter Titan single-handedly while defending a child.
Krist Lenz:
Ranked tenth of the trainee class. A kind and beautiful girl who is able to show great care for others, she has been described as a "goddess". However, she later develops a fear of facing the Titans and spends much of her time around Ymir who becomes her closest friend.
Ymir:
A member of the 104th graduating class and a close friend to Krista, to whom she holds romantic feelings. Like Eren, she has the ability to transform at will into a Titan. Her Titan form is only 7-meters tall, but she is easily the most nimble of the Titans, taking down several that are larger than her using only her speed, claws, and teeth.
Attack on Arcs
Fall of Shiganshina
104th Trainee Squad
Battle of Trost District
The Female Titan
Clash of the Titans
The Uprising
Attack on Credits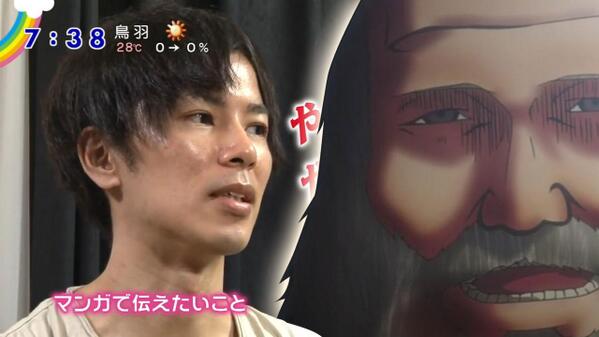 All credit goes to the manga author. You can browse through and read throughthe latest chapters on
mangastream
. Though those are constantly updated and overwritten after a new chapter is released. Older chapters are chronicled in sites such as mangahelpers. Personally, i prefer to visit my old site onemanga
here!
. As always support the industry, enjoy our hobby!

Hajime Isayama
(諫山 創 Isayama Hajime, born August 29, 1986) is a Japanese manga artist from Ōyama, Ōita. His first and currently ongoing serial, Attack on Titan, is experiencing huge success with 40 million copies in circulation as of July 2014. He has mentioned Tsutomu Nihei, Ryōji Minagawa, Kentaro Miura, Hideki Arai and Tōru Mitsumine as artists he respects, and stated that the manga that had the biggest influence on him was ARMS.
Attack on Titan
Genre: Dark fantasy, Post apocalyptic, Political undertones
Publisher: Kodansha/Kodansha USA
Demographic: Shounen
Magazine: Bessatsu Shounen Magazine